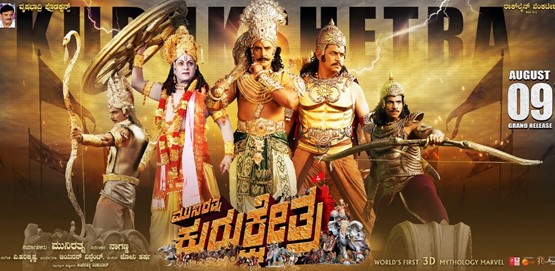 Hindi,Kannada,Tamil,Telugu
Kurukshetra is an upcoming kannada epic historical war movie written by J. K. Bharavi and directed by Naganna.Produced by Muniratna Naidu.Darshan,Ambarish,V.Ravichandran,Arjun Sarja,Sneha,Meghana Raj,Sonu Sood,Srinivasa Murthy,Danish Akhtar Saifi,Ravishankar,Yashas Surya and Hariprriya are played the lead roles in this movie.
Cast:Darshan,V.Ravichandran,Ambareesh,Arjun Sarja,Srinath,Srinivasa Murthy,Shashikumar,Danish Akthar Saifi,Sonu Sood,Yashas Surya,Chandan,Sneha,Bharathi Vishnuvardhan,Nikhil Kumar,Meghna Raj,Aditi Arya,Pavitra Lokesh,Hariprriya,Ravi Chethan.
Directed By:Naganna.
Based on:Gadhayuddha by Ranna.
Music By: V. Harikrishna.
Cinematography:Jayanan Vincent.
Edited By:Jo Ni Harsha.
Production Company:KCN Movies.