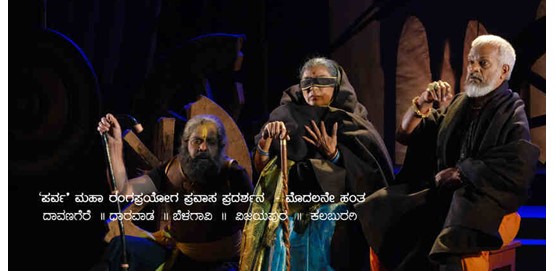 Parva Maha Rangaproyoga travelling tour
-----------------------------------------------
The novel narrates the story of Mahabharata mostly using monologue as a literary technique. Several principal characters found in the original Mahabharata reminisce almost their entire lives. Both the setting and the context for the reminiscence is the onset of the Kurukshetra War. The novel begins with a conversation in the court of Madra desha. It was the time when the preparations of war had just begun. The episode is followed by reminiscences of Kunti, Draupadi, Bheema and Arjuna. The next part of novel discusses the war from a rational view. The novel seeks to reconstruct the disintegration of a vast community involving the Kauravas and Pandavas.
----------------------------------------------
Date :- 5th May 2022
Time :- 10:30 am onwards
Location :- Kuvempu Rangamandira, Shivamogga
----------------------------------------------
ಮೈಸೂರು ರಂಗಾಯಣದ 'ಪರ್ವ' ನಾಟಕ ಪ್ರವಾಸ ಪ್ರದರ್ಶನ
ಆನ್ಲೈನ್ ನಲ್ಲಿ ಟಿಕೆಟ್ಗಳನ್ನು ಬುಕ್ ಮಾಡಬಹುದು. ಹೆಚ್ಚಿನ ಮಾಹಿತಿಗೆ ರಂಗಾಯಣ ವೆಬ್ಸೈಟ್ ಗೆ ಭೇಟಿ ನೀಡಿ. www.rangayana.org
Tickets

Rangayana Mysore have planned 1 show on 5th May. The play will begin at 10.30 am. on May 5. The total duration of the play is eight hours, including four intervals. There will be a lunch break for 30 minutes and three tea breaks of 10 minutes each. Keeping in mind the duration of the play and the expenses involved in staging such a mega play, tickets have been priced at ₹200 each

The bookings have started & you can buy the tickets from below links or from rangayana website.
20th April :- https://pages.razorpay.com/5thMayShivamogga
Event timings may vary slightly
Kuvempu Rangamandira, Savalanga Road, , Shimoga, Karnataka-577201