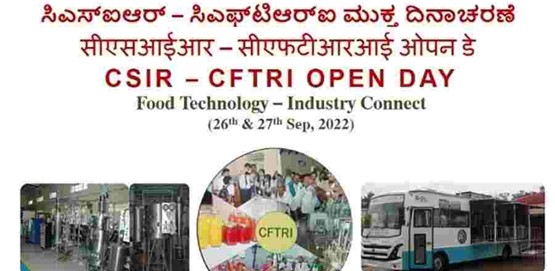 Monday, 26 September 2022 to Tuesday, 27 September 2022
CSIR-Central Food Technological Research Institute (CFTRI), Mysuru is a premier Research organization established in 1950. On the occasion of "CSIR Foundation Day" (26 th September, 2022), CSIR-CFTRI intends to keep its doors open for the public by holding "Open days" during 26 th and 27 th of September, 2022.
The General Public, entrepreneurs, College and High School students are welcome to have a glimpse of the Research and Technology Development being undertaken in the areas of Food Science & Technology and Food Processing at the Institute. Special displays showing the Research and Development work done at CFTRI as well as some products and machineries developed by the Institute will be showcased.
The main focus of the event is going to be on the "Food Technology-Industry Connect".The theme pavilion will showcase the information about CFTRI Innovative Technologies with relevance to Entrepreneurship. It's an opportunity to explore science as a career option especially for students and discuss with the scientific staff about scientific and research activities. General Public, Students from various schools and colleges and entrepreneurs are cordially invited to visit the Institute during these two days.
Dates and Timings for visit 26 th September, 2022 (Monday) 11 AM to 5PM and 
27 th September, 2022 (Tuesday) 10AM to 5PM
Event timings may vary slightly
Cheluvamba Mansion, Valmiki Main Rd, opp. Railway Museum, Devaraja Mohalla, CFTRI Campus, Kajjihundi, , Mysore, Karnataka-570020