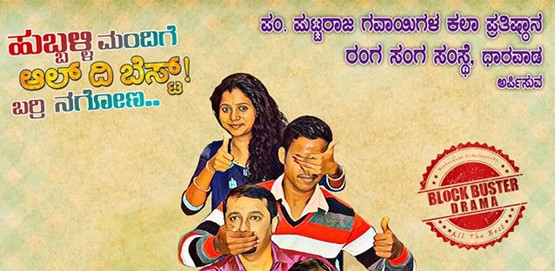 ಇದ ಅಗಸ್ಟ್ 31 ಸಂಜೆ 6-45ಕ್ಕೆ ಹುಬ್ಬಳ್ಳಿಯ ದೇಶಪಾಂಡೆನಗರದೊಳಗಿರೊ ಸವಾಯಿ ಗಂಧರ್ವ ರಂಗಮಂದಿರದಲ್ಲಿ ಯಶವಂತ ಸಂದೇಶಪಾಂಡೆ ಅವರ *ಆಲ್ ದಿ ಬೇಸ್ಟ್* ನಾಟಕ ಪ್ರದರ್ಶನ ಆಯೋಜಿಸಿದ್ದೇವಿ.. ಕುಟುಂಬ ಸಮೇತ ಬರ್ರಿ.. ಎರಡೂವರೆ ತಾಸು ಕೊತ ನಗೋಣ.. ನೀವು ನೋಡಿದ್ರ ನಿಮ್ಮ ಸ್ನೇಹಿತರಿಗೆ ಆತ್ಮೀಯರಿಗೆ ತಿಳಿಸಿ..
-----------------------------------------------------------
Drama :- All the best Kannada comedy Drama by Yashwant Sardeshpande
Time :- 6:45 PM
Location :- Sawai Gandharva Rangamandira, Deshpande Nagar , Hubballi
Yashwant Sardeshpande presents a comic drama. Two hours of full laughter.
Tickets available at :- Sahitya Bhandar - Kopikar Road, Gurudatt Bhavan - Vidya Nagar, Canara Hotel - Hosur, Shivasagar Thattey Idli - Lingaraj Nagar Cross, Gokul Iyengar Bakery - Akshay Park, Lucky Corner - Opp Sawai Gandharva Hall.  
---------------------------------------------------------
Event timings may vary slightly
Deshpande Nagar, Hubli, Karnataka 580029, , Hubli, Karnataka-580029