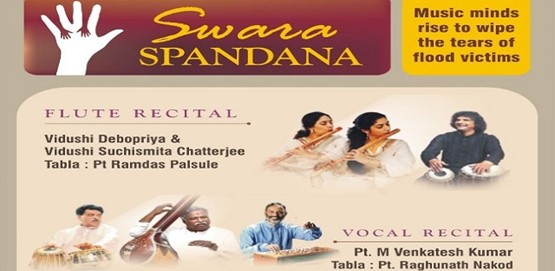 Sunday, 29 September 2019
Bharatiya Sangeet Vidyalaya, Dharwad
in association with
Annaji Rao Sirur Rangamandira and Association of Consulting Civil Engineers, Dharwad
had come forward to wipe of the tears of flood victims of Noth Karnataka by organizing a music programme
Swara Spandana 
Flute Receitals : 
Vid.Deboproya
Vid.Suchismita Chaterjee
Tabala:Pt. Ramdas Palsule
Vocal Recitals : 
Pt.Venkatesh Kumar
Tabala:Pt. Raghunath Nakod
Harmonium:Pt.Sudhanshu Kulkarni
Date: 29th September 2019
Time: 5:30 PM
Venue:  Srijana Rangamandira, Dharwad.
Donations may be done through PhonePay or Google Pay on 9980746460 and Fund Transfer to account no. 37341438567, Stat Bank of India, Dharwad, (IFSC: SBIN0000833).
#swaraspandana #bsvdharwad #musicforcause
Event timings may vary slightly
Srijana Rangamandira,KCD, , Dharwad, Karnataka-580001