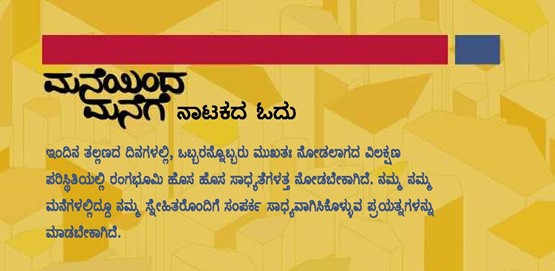 "Maneyinda Manege"  A live, play reading programme
"During these days of anxiety, where we are in a diabolical situation, unable to meet face to face - the theatre world is moving towards interesting innovations. We need to be in touch with our friends as we remain at home. Ranga Shankara has also made several attempts in the recent past. The Door to Door: Reading of Plays campaign is a new experiment in this direction."
Ranga Shankara's Artistic Director Surendranath S is a well-known name in Kannada theatre. A graduate of the National School of Drama, a fine writer of short stories and plays and a director, he has worked extensively on Indian mime and in the GRIPS Theatre module of Germany, a movement that fosters theatre for children.
Come listen to B V Shrunga (Sovideva), Keerthi Bhanu (Kallappa), Sripathi Manjanabailu (Damodara and Manchana), Huligappa Kattimani (Bijjala), Prashanth (Basavanna) and Nandini (Rambha) in Ranga Shankara's "Maneyinda Manege", a live play-reading of Girish Karnad's 'Taledanda', conceptualized and curated by Surendranath S.
When - 30 Apr, '20 at 7:30 PM (today!)
Where - Youtube below link
Live Stream on YouTube - https://www.youtube.com/user/RangaShankaraTheatre
Zoom (75 participants only) - https://us02web.zoom.us/j/85066712540…
Event timings may vary slightly
Online, , Dharwad, Karnataka-500001