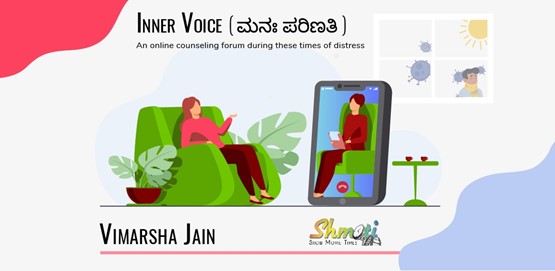 TICKET BOOKING HAS BEEN CLOSED
Inner Voice(Manaha Parinati) a talk with a qualified Psychologist about Stress, Anxiety and Confusion and it is completely OK to feel so. It is always best to talk to a qualified Counselor about your feelings and get the questions you have clarified hence this online session. Post the session, individual personal sessions with the counselors can be created to help each person for which information will be shared.
Why Online? In an Online session the individual name and identity need not be known and it provides a barrier for people to talk freely without holding back their feelings. These are all trained professional counselors and are least judgemental about what you feel and have already handled many such calls.
Why do i need to register? We require registration as the number of people allowed to attend is restricted this allows us to send you the correct details of where to come online and if any changes will be required for the session. There is no other reason behind the need for registration. You can also attend the session on your phone or laptop with the link sent to you post registration.
Period of the session :- 30 Mins session Online (Post which details will be shared for Individual sessions if you need).
Some of the points we think are pertinent in this context
Reducing tension in a relationship while sheltering in place and building stronger relations.
Consuming news without increasing anxiety. 
Supporting healthcare workers and helping them prioritize self-care and helping families. 
Remaining positive when living alone. 
Staying focused and productive at work. 
Finding your next career or job if you've been laid off. 
Helping children who are struggling without their usual routine or friends. 
Creating positive experiences while in lockdown for elders and kids.
Sleeping better, despite increased anxiety and stress. 
Coping if loved ones test positive for COVID-19. 
Spreading kindness or making social connections while isolated. 
About Vimarsha Jain:-
Vimarsha Jain is an experienced and certified counseling psychologist and cofounder of RITAM, Mangalore. She did her formal training in psychology and later specialized in counseling, self-management, and positive psychology. Her passion for mankind motivated her to work in different sectors like NGOs, schools, health care setups at different capacities. Having her around is like having an extra brain and a second pair of hands. That makes your life so much easier. Well, also imagine having two headaches, and sanitizing an extra pair of hands every time. 
She is a naturalist, avid reader, biker, doodler, hiker, classical dancer and yet grounded and least judgemental.
Event timings may vary slightly
Online, , Dharwad, Karnataka-580001