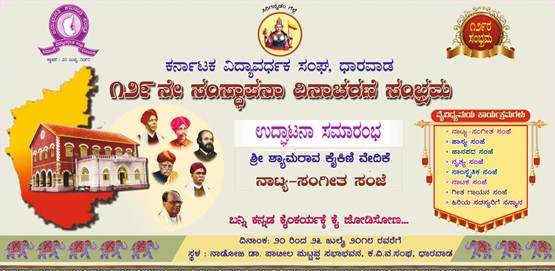 Friday, 20 July 2018 to Thursday, 26 July 2018
In lieu of the establishment of the Karnataka Vidhyavardhak Sangha Dharwad 129th establishment year celebration.
From July 20 2018 to July 26 2018
Timing:- 5:30 PM onwards
Location :- Nadoji Dr Patil Putappa Sabha Bhavan, Dharwad
Programs:-
Dance and Song evening
Laughter Show Evening.
Local Folk Song Evening.
Dance Evening.
Cultural Evening.
Drama Evening.
Devotional Song Evening.
=============================
ಕರ್ನಾಟಕ ವಿದ್ಯಾವರ್ಧಕ ಸಂಘ ನಾಡು ನುಡಿಗಳ ಸೇವೆಯನ್ನೇ ಉದ್ದೇಶವಾಗಿಟ್ಟುಕೊಂಡು ಧಾರವಾಡದಲ್ಲಿ ೧೮೯೦ರ ಜುಲೈ ೨೦ರಂದು ಪ್ರಾರಂಭವಾದ ಒಂದು ಮುಖ್ಯ ಸಂಸ್ಥೆ. ಅಖಿಲ ಕರ್ನಾಟಕದ ವ್ಯಾಪ್ತಿಯನ್ನುಳ್ಳ ಸಂಸ್ಥೆಗಳಲ್ಲಿ ಮೊಟ್ಟ ಮೊದಲಿನದೆನಿಸಿದ ಈ ಸಾಂಸ್ಕೃತಿಕ ಸಂಸ್ಥೆಯ ಪ್ರಥಮ ಅಧ್ಯಕ್ಷ ಶಾಮರಾವ್ ಕೈಕಿಣಿ, ಪ್ರಥಮ ಕಾರ್ಯದರ್ಶಿ ರಾ. ಹ. ದೇಶಪಾಂಡೆ.
Event timings may vary slightly
Dr Patil Putappa Sabha Bhavan, Dharwad, , Dharwad, Karnataka-580001